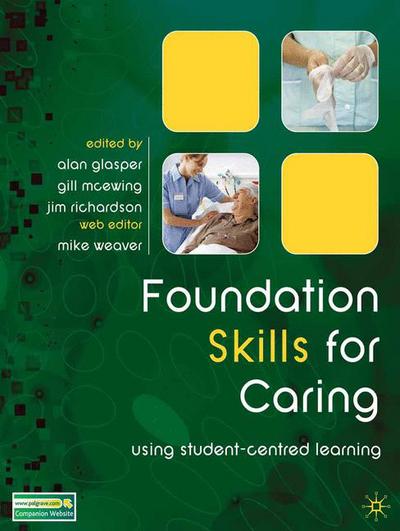 ---
Categories:
AVAILABLE FORMATS
Paperback - 9780230552692
26 March 2009
$52.99
Free Shipping
In stock
---
Ebook - 9781137117335
07 December 2018
---


As a trainee healthcare professional, you need a reliable skills manual which will help you understand and apply the procedures covered on your course. However, you also need one which will equip you to learn new skills as...
Show More


As a trainee healthcare professional, you need a reliable skills manual which will help you understand and apply the procedures covered on your course. However, you also need one which will equip you to learn new skills as you develop throughout your career. Congratulations – you've just found it!

Why is this skills manual different?

To help you fully engage with what you're learning, Foundation Skills for Caring has been designed with your interests and knowledge in mind. It is packed with scenarios and activities for you to explore alone or in your learning groups. These activities make study more enjoyable, but also build your confidence as you rehearse, develop and apply what you've learned. Along the way, you'll acquire professional-level skills in critical thinking, problem solving, reflection, teamwork and more.

What does it cover?

A range of chapters looks at over 150 core skills related to caring, including all of the skills from the NMC Essential Skills Clusters. Every chapter has been written by an experienced lecturer or practitioner, so you can be confident that your learning is supported by a team of experts.

And there's more!
 
Foundation Studies for Caring
Using the same engaging style, our comprehensive sister book explores the theory that underpins your practice. Chapter links make it easy to move between the volumes and build a full picture of today's healthcare environment. Click here to visit the product page for Foundation Studies for Caring: http://www.palgrave.com/products/title.aspx?PID=280527.
 
Companion Website
Visit specially-created chapter pages including more subject information, video clips and study aids – all at: www.palgrave.com/glasper


Show Less
For lecturers:
SCL approach supports teaching that encourages 'the development of critical thinking, problemsolving and reflective capacities essential to complex professional practice.' (Nursing and Midwifery Council regulations for standards of teaching). SCL approach will engage student learners and so help to meet the challenge of student retention
Is supported by and cross referenced with Foundation Studies for Caring. This theory and skills integration will underpin the 'strategies for integrating knowledge and skills gained in both academic and practice environments' (NMC)
The companion website will appeal to varied learning styles and provide another aid for nontraditional learners
For students:
Covers all the main skills needed for practice
SCL approach - provides training in constructive selfstudy, therefore laying the foundations for lifelong learning?
Includes interprofessional perspectives to prepare students for the practice environment, of which team working is a vital part
Theory and skills - ensures continuity of understanding and helps students feel confident in advance of clinical placements
Evidence-based - helps students to appreciate the need to develop working behaviours which have a clearly proven rationale
Companion website - caters for different learning needs, engages students and provides additional support for distance learners through images, videos, audio files, and more
Introduction
Fundamental Concepts for Skills; A.Glasper; G.McEwing& J.Richardson
IT Skills; M.Weaver [online only]
PART 1: SKILLS FOR COMMUNICATION Communication; J.Orr& D.Morris
Communicating with Adolescents; D.Morris & J.Orr
Anxiety; M.Chambers
Sign Language; J.Assey
Breaking Significant News; J.Quiddington
Breakaway Skills; D.Carpenter& J.Wilson
PART 2: SKILLS FOR PHYSICAL NEEDS Patient Hygiene; T.Coney
Pressure Area Care; E.Gibson & C.Dunford
Eye Care; S.Raftery, C.O'Neill & M.Clynes,
Mouth Care; M.Clynes
Catheterisation and Catheter Care; S.Miles
Basic Foot Care and Managing Common Nail Pathologies; M.Cole
Care of the Infant; M.Aylott
PART 3: SKILLS FOR PHYSIOLOGICAL ASSESSMENT Vital Signs; P.Diggens
Blood Pressure; S.Jones
Pulse Oximetry; S.Jones
Blood Sugar Measurement (Using a Glucometer); , M.Clynes, C.O'Neill & S.Raftery
Neurological Assessment; J.Knight& R.Palmer
Pain Assessment: Child; A.Davies
Pain Assessment: Adult; C.Hanks& T.Jenkinson
Diabetic Foot Assessment; A.Stuart& E.Toms
PART 4: SKILLS FOR CARE MANAGEMENT Assessing and Managing Hydration; V.Lambert& D.O'Toole
Intravenous Therapy; C.Chamley& M.Wilson
Enteral Feeding; C.Hanks& G.McEwing
Infant Feeding; D.Corkin& A.McDougall
Routes of Medication Administration; T.Harrington & C.Barron
Patient-controlled Analgesia; M.Broom& G.Parsons
Universal Precautions; S.MacDermott
Wound Assessment; L.Wayne
Asceptic Technique and Wound Management; P.Cardwell
Central Venous Catheters; J.Kelsey
Blood Transfusion; S.MacDermott& K.Merrick
Oxygen Therapy and Suction Therapy; N.Bloxham, S.Jones & G.McEwing
Basic Life Support: Child; J.Kelsey & G.McEwing
Basic Life Support: Adult; J.Heath
Clinical Holding for Care, Treatment or Interventions; P.Morrow& P.McGuinness
Orthopaedic Procedures; R.Sherrington
Last Offices; D.Heron& L.Smith
Specimen Collection; Y.Corcoran.

ABOUT THE AUTHOR

---