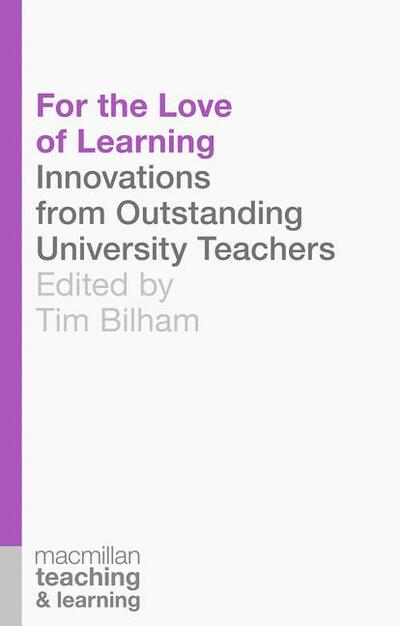 For the Love of Learning
Innovations from Outstanding University Teachers
Author(s):
Publisher:
Red Globe Press
Pages: 312
Series:
Downloads:Further Actions:
Permissions
---
Categories:
AVAILABLE FORMATS
Paperback - 9781137334299
18 December 2013
$52.99
Free Shipping
In stock
---
Ebook - 9781137334305
11 November 2013
---
Edited collection featuring essays from exceptional National Teaching Fellows. Presents the cutting-edge of pedagogical thinking on the most important topics in higher education today, including student engagement,...
Show More
Edited collection featuring essays from exceptional National Teaching Fellows. Presents the cutting-edge of pedagogical thinking on the most important topics in higher education today, including student engagement, assessment, internationalisation and employability. Destined to become a 'must-read' guide for anyone involved in higher education.

Show Less
Edited collection featuring a series of essays from outstanding National Teaching Fellows, the UK's most prestigious recognition of excellence in higher education teaching
Presents the cutting edge of pedagogical thinking on the most important top
Acknowledgements
How to Use this Book
Glossary
Foreword.-Introduction: Inspiration, Innovation and Excellence; Tim Bilham
PART I: CROSSING BOUNDARIES
Crossing Boundaries: Disciplines
1. The Liquidity of Knowledge: Learning across Disciplinary Divides; Heather Barnett
2. Mixed Cultures: Microbiology, Art and Literature; Joanna Verran
3. Blending Approaches to Teaching in Art and Design: Case Studies from Glass and Ceramics; Kevin Petrie
4. New Learning Ecosystems: Blurring Boundaries, Changing Minds; Helen Keegan
Crossing Boundaries: Transitions
5. Learning to Love Learning; Peter Ovens
6. Crossing the Boundaries of Academic Writing; Lin Norton and James Elander
7. Beyond Competence: Enabling and Inspiring Healthcare Students; Faith Hill
8. 'Disability Matters': The Role of Personal Tutors for Inclusive Teaching and Learning; Suanne Gibson
PART II: LEARNING DIFFERENTLY
Learning Differently: Approaches to Teaching
9. Designs on Learning: The Role of Cross-University Collaborative Undergraduate Research Symposia; Kirsten
Hardie in association with Annie Grove-White
10. Innovative Approaches to Learning Design: Harnessing New Technologies for Learning; Gráinne Conole
11. Scaffolding Problem-Based Learning; Derek Raine
12. Developing Subject Specific Knowledge, Digital Creativity and Soft Skills: A Games-Based Approach to Teaching and Learning; Rachel McCrindle
Learning Differently: Teaching Difficult Topics
13. Teaching with Assessment, Feedback and Feed-Forward: Using 'Preflights' to Assist Student Achievement; Brian Whalley
14. Ongoing Challenges in Cross-Disciplinary Teaching: A Case Study from Statistics; Paul Hewson
15. De-Mystifying Statistics: Bring Your Imprimatur ... to the Laughter; Andy Field
16. Performing Critical Thinking?; Stella Jones-Devitt
Learning Differently: Assessment
17. Best Practice in Assessment and Feedback: Neglected Issues; Peter Hartley
18. Assessment Strategies for Developmental and Experiential Learning: Successes and Challenges; Anita Peleg
19. Developing and Assessing Professional Competence: Using Technology in Learning Design; Luke Dawson in association with Ben Mason
Learning Differently: International Issues
20. Building Curriculum Internationalisation from the Bottom up; David Killick
21. New Horizons and Old Challenges for Distance Learning: Bridging the Access Gap in African Universities; Basiro Davey
22. Kinds of International: Internationalisation through Engagement with One Another; Jane Spiro
Part III Engaging Students
Engaging students: In the Process of Learning and Discovery
23. Doing, Being and Becoming: An Occupational Perspective on Enabling Learning; Rayya Ghul
24. Learning Together through Student-Lecturer Collaborative Enquiry; Will Curtis
25. Creating Space for Student Autonomy and Engagement through Partnership and Letting Go; Colin Bryson
26. The Student-Professional; Laura Ritchie
Engaging Students: Its Wider Influence
27. Wanted! Agents of Change: Enabling Students to Make Change Happen in their Professional World; Duncan Reavey
28. Authentic Partnerships: Inspiring Professional Identity and Ownership in Students; Ruth Matheson
29. Learning from the Real; Mary Hartog and Philip Frame in association with Chris Rigby and Doirean Wilson
30. Looking at the Mirror in the Suitcase: Encouraging Students to Reflect on their Professional Learning Journey; Anna Lise Gordon
Part IV Employability: Moving On
31. SOARing to Success: Employability Development from the Inside-Out; Arti Kumar
32. Telling Tales: The Use of Story to Enhance Employability; Beverly Leeds
33. Authentic Assessment and Employability a Synergy?; Jane Thomas
34. Getting Ready for Action: Student Engagement in an Employability Project; Jamie Thompson in association with Laura Bullerwell, Catherine Foster, Russell Jackson and Nichola Larkin (students)
35. English Language Learning for International Employability; Angela Goddard in association with Alastair Henry
36. Engaging with and Owning the Enterprise Agenda; Pauline Kneale
Conclusion: Sustaining Excellence; Tim Bilham
References
Endotes
Index.
ABOUT THE AUTHOR

---