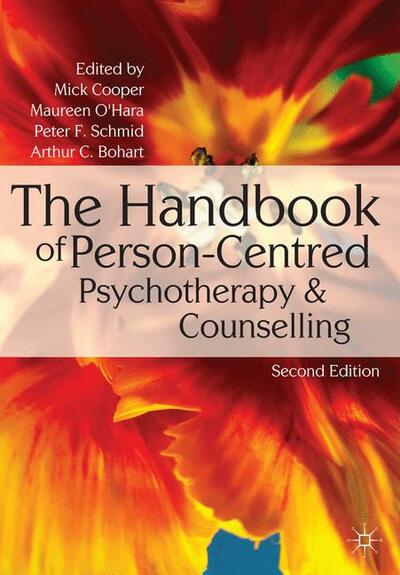 The Handbook of Person-Centred Psychotherapy and Counselling (2nd Edition)
Author(s):
Mick Cooper, Maureen O'Hara, P F Schmid
Publisher:
Red Globe Press
Pages: 544
Downloads:Further Actions:
Permissions
---
Categories:
AVAILABLE FORMATS
Paperback - 9780230280496
14 June 2013
$53.99
Free Shipping
In stock
---
Ebook - 9781137329004
31 May 2013
---
Thoroughly updated to reflect the latest trends in theory and practice, this this substantially revised and extended edition is the most in-depth and wide-ranging textbook available on person-centred psychotherapy and...
Show More
Thoroughly updated to reflect the latest trends in theory and practice, this this substantially revised and extended edition is the most in-depth and wide-ranging textbook available on person-centred psychotherapy and counselling. Divided into four parts, it examines the theoretical, philosophical and historical foundations of the person-centred approach; the fundamental principles of person-centred practice and applications of person-centred practice; how person-centred conceptualisations and practices can be applied to groups of clients who bring particular issues to therapy; and, finally, professional issues for person-centred therapists, such as ethics, supervision and training.
Written by a diverse range of expert contributors, unified by a more relational, ethics-based reading of person-centred theory and practice, this is a comprehensive, cutting-edge resource for students on all advanced level person-centred courses, as well as for a wide range of professional practitioners in the field.
Show Less
It engages systematically with urgent contemporary issues, such as evidence-based practice, political and medical discourses, and theoretical integration

It uses case illustrations, therapist-client dialogues, points of reflection and further resources to bring person-centred therapy to life for the reader, in a user-friendly way
It includes contributions by an increasingly extensive group of writers, thinkers, teachers and practitioners

A new, introductory chapter looking at contemporary challenges and opportunities for growth for the person-centred world
Nine further new chapters, including work with children and young people, older clients, arts-based therapies, addiction and bereavement, spiritual dimensions, contact and perception, working integratively, global and political implications
Increased use of text learning features to make the chapters more accessible and engaging
A greater focus on actual practice, with more case studies and examples of therapist-client dialogues
Increased reference to research
A general updating of all chapters to include all relevant references
Preface; M.Cooper, M.O'Hara, P.F.Schmid & A.Bohart
Person-Centred Therapy Today; M.Cooper, M.O'Hara, P.Schmid & A.Bohart
The Basic Conditions of the Facilitative Therapeutic Relationship; C.Rogers
PART I: THEORETICAL, HISTORICAL AND PHILOSOPHICAL FOUNDATIONS
Origins and Unfolding; G.T.Barrett-Lennard
Family of Person-Centred and Experiential Therapies; P.Sanders
Ethical and Relational Foundations; P.F.Schmid
The Actualising Person; A.Bohart
Experiential
Phenomenological Foundations; M.Cooper & A.Bohart
Developmental and Personality Theory; M.Cooper
Spiritual Dimensions; M.van Kalmthout
PART II: THERAPEUTIC PRACTICE
Psychological Contact; G. Wyatt
Empathy; E.Freire
Unconditional Positive Regard; J.D.Bozarth
Congruence; J.Cornelius-White
Therapeutic Presence; S.Geller
Working with Groups; P.F.Schmid & M.O'Hara
Person-Centered Expressive Arts Therapy: Connecting Body, Mind, and Spirit; N.Rogers
Integration In Person-Centered Psychotherapies; D.Cain
PART III: WHAT CLIENTS BRING TO THERAPY
Person-Centered Psychotherapy and Counselling with Children and Young People; M.Behr, D.Hölldampf & S.McGinnis
Couples and Families; C.J.O'Leary & M.B.Johns
Older Adults; A.Washburn & S.Humboldt
Grief and Bereavement; D.Larson
Clients with Contact-Impaired Functioning; D.Van Werde & G.Prouty
Working with Difficult and Fragile Process; L.Carrick & S.Joseph
A Person-Centred Approach to Addiction Treatment; J.Roland Fleck
PART IV: PROFESSIONAL ISSUES
Setting up Practice and the Therapeutic Framework; R.Worsley
Assessment and Formulation; E.Gillon
Ethics in Practice in Person-Centered Therapy; G.Proctor & S.Keys
Counselling Across Difference and Diversity; C.Lago & T.Hirai
Supervision; E.Lambers
Research; R.Elliott
Social Change and Cultural Leadership; M.O'Hara
Resources; R.J.Takens.
ABOUT THE AUTHOR

---