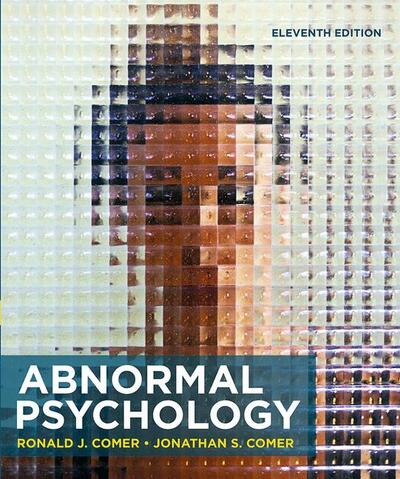 Abnormal Psychology (11th Edition)
Author(s):
Downloads:
Further Actions:
---
Categories:
AVAILABLE FORMATS
Paperback - 9781319382971
15 February 2021
---
Ebook - 9781319382988
15 February 2021
---
Instant Digital Access Code - 9781319382995
15 February 2021
---
Book + Access Card - 9781319389017
15 February 2021
---
This core textbook for psychopathology and abnormal psychology courses,is a comprehensive introduction to the subject. The authors are skilled at communicating the complexities of abnormal psychology, speaking to the...
Show More
This core textbook for psychopathology and abnormal psychology courses,is a comprehensive introduction to the subject. The authors are skilled at communicating the complexities of abnormal psychology, speaking to the concerns of students, and portraying the real human impact of psychological disorders. With its signature integrated coverage of theory, diagnosis, and treatment, and remarkably inclusive cross-cultural perspective, this textbook is widely adopted on abnormal psychology courses and shows students where the study and treatment of psychological disorders stand today. The book can be purchased with the breakthrough online resource, LaunchPad, which offers innovative media content, curated and organised for easy assignability. LaunchPad's intuitive interface presents quizzing, flashcards, animations and much more to make learning actively engaging.

Show Less
InfoCentral infographics provide visual representations of data related to key topics and concepts - MindTech gives special attention to particularly provocative technological trends in engaging and enlightening ways. - Critical Thought questions ask students to reflect on the effects of technology on mental health, as well as its use in innovative treatments for psychological disorders. - PsychWatch emphasizes the effect of culture on mental disorders and treatment with examples from movies, the news, and real lives. - Trending focuses on trending topics in abnormal psychology, with accompanying questions that ask students to think critically about these issues and consider different viewpoints.
Updated Clinical Choices immersive learning activities put students in the role of clinician, where they engage with virtual clients to identify the symptoms of psychological disorders and think critically about diagnosis and treatment options. - COVID-19 pandemic-related material is included throughout the book - Enhancement of the discussion of the Developmental Psychopathology perspective, including the addition of enlightening, pedagogical drawings that help readers better understand the perspective's explanations. - Enhancement of the discussion of brain circuits, including the addition of pedagogical drawings that help clarify these circuits and bring them to life. - Expanded coverage of new technologies and their impact on clinical research and treatment - New topic discussions such as the impact of vaping, ketamine-based treatment for depression, and sexual assaults on transgender and non-binary persons

1. Abnormal Psychology in Science and Clinical Practice
2. Abnormal Psychology: Past and Present
3. Research in Abnormal Psychology
4. Models of Abnormality
5. Clinical Assessment, Diagnosis, and Treatment Problems of Anxiety and Mood
6. Anxiety, Obsessive-Compulsive, and Related Disorders
7. Disorders of Trauma and Stress
8. Depressive and Bipolar Disorders and Treatments
9. Suicide Problems of the Mind and Body
10. Disorders Featuring Somatic Symptoms
11. Eating Disorders
12. Substance Use and Addictive Disorders
13. Sexual Disorders and Gender Variations Problems of Psychosis and the Cognitive Function
14. Schizophrenia and Related Disorders
15. Treatments for Schizophrenia and Other Severe Mental Disorders Life-Span Problems
16. Personality Disorders
17. Disorders Common Among Children and Adolescents
18. Disorders of Aging and Cognition
19. Conclusion
20. Law, Society, and the Mental Health Profession.
This textbook is available with LaunchPad. Within LaunchPad, you'll have access to an interactive ebook along with diagnostics, adaptive quizzes and assignments to help you achieve success in your course. This LaunchPad includes: - An e-Book integrating the text with an assortment of media-powered learning tools - Clinical Choices interactive case studies where students simulate the thought process of a clinician by evaluating a virtual "client's" symptoms, gathering information about the client's life situation, determining a diagnosis, and formulating a treatment plan - Flashcards for every key term that students can view in different modes, including quiz mode to test themselves - LearningCurve's game-like adaptive quizzing to consolidate learning in every chapter of the text - Research exercises where students answer questions based on articles or studies on the web - Video activities where students view videos about real life scenarios and test their understanding with a quiz - Videos offering 132 clips that depict disorders, show historical footage, and illustrate clinical topics, pathologies, treatments, experiments, and dilemmas - Practice Quizzes offering pre-built quizzes which students can take multiple times and receive randomized questions on the same topic Purchase your LaunchPad access card, or LaunchPad access card and book pack above.
ABOUT THE AUTHOR

---