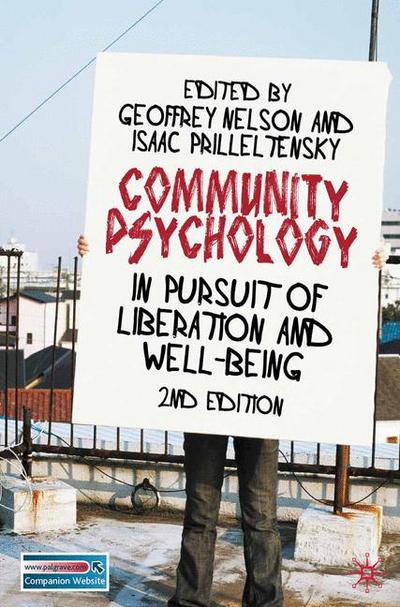 Community Psychology (2nd Edition)
In Pursuit of Liberation and Well-being
Author(s):
Geoffrey Nelson, Isaac Prilleltensky
Publisher:
Red Globe Press
Pages: 596
Downloads:Further Actions:
---
Categories:
AVAILABLE FORMATS
Paperback - 9780230219953
17 February 2010
$64.99
Free Shipping
In stock
---
Ebook - 9780230370081
17 February 2010
---
In its broadest sense, community psychology studies the individual's relationships to their community and to wider society. Sitting at the junction between social and clinical psychology, and heavily influenced by activist...
Show More
In its broadest sense, community psychology studies the individual's relationships to their community and to wider society. Sitting at the junction between social and clinical psychology, and heavily influenced by activist traditions in political science, sociology and social work, this powerfully written book delivers a comprehensive introduction to the definition and aims of this justice-orientated field of psychology. Editors Nelson and Prilleltensky cover a broad range of the critical perspectives and fundamental values that define the aims of community psychology, highlighting the psychosocial praxis that these have produced and the key political and societal ills that they aim to prevent. Written with a global perspective, this book exhibits internationally authored chapters as well as in-text commentators and cross-cultural case studies. This book is a key guide to understanding how community psychologists function to resolve structural injustice and bring about transformative change to the socio-economic issues of our time such as homelessness, mental health, racism, discrimination and marginalisation.
This text can be used as an essential guide for undergraduate students beginning courses in Community Psychology as it presents a thorough history of the field, a rigorous breakdown of the various socio-economic issues at the heart of community psychology's focus, as well as a critical analysis of methods of intervention and research.
Show Less
Each chapter includes a commentary from a community psychologist around the world offering insight on the experiences of professionals in the field

Provides, for the first time in a community psychology text, chapters related to gender and feminism, heterosexism and gay/lesbian/bisexual issues, globalization, immigration, colonization, racism, marginalization and ableism

Includes the chapter Tools for Research which offers critical analyses of the methods of social research in community psychology
Comprised of 24 chapters, this book covers an unbeatable breadth of material in the subject
Examines and illustrates participatory action approaches to community research

Updated and expanded to reflect how changes within society have led to developments across the field
The authors offer a fascinating introduction for students, setting out the principles of community psychology as they consider how its roots have helped to shape the goals of liberation and well-being

PART I: CONTEXT AND OVERVIEW
Community Psychology: Journeys in the Global Context
The Project of Community Psychology: Issues, Values and Tools for Liberation and Well-Being
PART II: VALUES, PRINCIPLES AND CONCEPTUAL TOOLS
Values for Community Psychology
Ecology, Prevention and Promotion
Community and Power
Commitment, Accountability and Inclusion
PART III: TOOLS FOR ACTION
An Overview of Community Psychology Interventions
Social Interventions
Organizational and Community Interventions
Small Group and Individual Interventions
PART IV: TOOLS FOR RESEARCH
The Foundations of Community Research
Community Research Methods: Post-positivist and Social Constructivist Paradigms
Community Research Methods: Transformative Paradigm
PART V: PUTTING IT ALL TOGETHER: ADDRESSING THE ISSUES
Marginalisation; C.Kagan & M.Burton
Globalisation, Poverty and Social Justice; T.Sloan
Colonization and Racism; M.Glover, P.Dudgeon & I.Huygens
Immigration and Adaptation: Confronting the Challenges of Cultural Diversity; C.Sonn & A.Fisher
Gender, Power and Community Psychology; H. Gridley and C.Turner
A Journey Towards Liberation: Confronting Heterosexism and the Oppression of Lesbian, Gay, Bisexual and Transgendered People; G. Harper
Ableism; G. White
Creating New Possibilities for Promoting Liberation, Well-being and Recovery; B. Kloos
Disadvantaged Children and Families; L. Peirson
Community Psychology, the Natural Environment, and Global Climate Change; M. Riemer
PART VI: LOOKING TOWARDS THE FUTURE
Between Person and Society: Community Psychology's Voyage into Complexity; M. Montero.
Companion website which features exercises and additional online resources:

Test questions for lecturers
Chapter resources for students
Further reading for students on ethics in community psychology

ABOUT THE AUTHOR

---