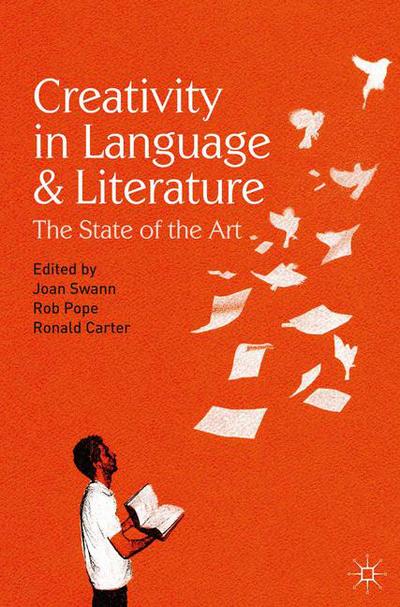 Creativity in Language and Literature
The State of the Art
Author(s):
Joan Swann, Robert Pope, Ronald Carter
Publisher:
Red Globe Press
Pages: 368
Downloads:Further Actions:
---
Categories:
AVAILABLE FORMATS
Paperback - 9780230575608
15 October 2011
$45.99
Free Shipping
In stock
---
Ebook - 9781349924820
16 September 2017
---
'Creativity in Language and Literature is a provocative and valuable book. Its breadth of topics, variety of approaches, and self-consciously creative and dialogic nature are especially appropriate and creative ways of...
Show More
'Creativity in Language and Literature is a provocative and valuable book. Its breadth of topics, variety of approaches, and self-consciously creative and dialogic nature are especially appropriate and creative ways of approaching the subject of creativity. The scope, variety and original content of this book make it a unique contribution to the field' - Professor David L. Hoover, New York University, USA

This unique resource brings together contributions from creative practitioners and academic researchers working across different disciplines. Researchers, literary authors, editors, performers and film makers reflect on their work and collectively explore the art of creativity in language and literature.

Creativity in Language and Literature covers a range of texts, genres and practices, such as poetry, hip hop, film, story telling, web chat and pen-friend correspondence. Each part of the book begins with an introduction and the final part includes critical responses to the idea of linguistic creativity, encouraging ongoing dialogue and debate. This richly diverse collection is an ideal text for students and practitioners working at all levels.

With contributions by Patience Agbabi, Daniel Allington, R. Amritavalli, Richard D. Brown, Lynne Cameron, Ronald Carter, Guy Cook, Jon Cook, Ruth Finnegan, Angela Goddard, Ben Haggarty, Graeme Harper, G. D. Jayalakshmi, Angel Lin, Janet Maybin, Rukmini Bhaya Nair, Kate Pahl, Mario Petrucci, Rob Pope, Elena Semino, Fiona Sampson, Jane Spiro, Peter Stockwell, Joan Swann, S. Upendran and Michelene Wandor.

Show Less
A major 'state of the art' resource, edited by three of the most renowned and respected names in the field
Draws together contributions from a range of high profile authors, including academic researchers and creative practitioners literary authors, editors, performers, film makers reflecting on their work
Takes a multidisciplinary approach to creativity, appealing to students of literature, language and communication
Prologue
General Introduction
PART I: CREATIVITIES: TEXTS IN CONTEXT, GENRES IN PRACTICE
Editors' Introduction to Part I
Give Me (Deep Intake of Breath) Inspiration; P.Agbabi
'Can't We Ever, My Love, Speak in the Same Language?': Everyday Language and Creative Tension in the Poetry of Louis MacNeice; R.D.Brown
Bilingual Verbal Art of Fama: Linguistic Hybridity and Creativity of a Hong Kong Hip Hop Group; A.Lin
Metaphor in Prosaic and Poetic Creativity; L.Cameron
Metaphor, Creativity and the Experience of Pain Across Genres; E.Semino
Word Play across Languages and Cultures: Interview between G.D.Jayalakshmi, S.Upendran & R.Amritavalli
PART II: CREATIVITY ACROSS MODES, MEDIA AND TECHNOLOGIES
Editors' Introduction to Part II
Chains of Transformation: The Making of Heavy Water, a Film for Chernobyl; M.Petrucci
Intimate Strangers: Dialogue and Creativity in Penfriend Correspondence; J.Maybin
Creativity, Materiality and Representation in New Communication Technologies; A.Goddard
Improvisations and Transformations Across Modes: The Case of a Classroom Multimodal Box Project; K.Pahl
Hybridity in the Mind and on the Page: Genre, Words, Music and Narrative; M.Wandor
Mature Poet Steals: Sonnet as Problem Page New; P.Agbabi
Stories in Performance; B.Haggarty
PART III: CREATIVE INTERPRETATIONS: AUDIENCE RESPONSES, READING AND RE-WRITING
Editors' Introduction to Part III
The First Three Minutes: Seducing the Audience in 'Arranged Marriage'; G.D.Jayalakshmi
Authenticity and Creativity in Reading Lamentation; P.Stockwell
How Reading Groups Talk about Books: A Study of Literary Reception; J.Swann
Reader Response and the Formulation of Literary Judgement; J.Spiro
Practical Measures: Poet as Editor; F.Sampson
Re-Writing the Critical-Creative Continuum: '10x...'; R.Pope
Reading a Hindi Poem: Lost in Translation?; R.B.Nair
An A-Z of Textual Re-Creation; R.Pope
PART IV: OPEN QUESTIONS, ONGOING DEBATES
Editors' Introduction to Part IV
The Production of 'Creativity'; D.Allington
In Defence of Genius; G.Cook
Creative Writing: Habitat Homo Sapiens; G.Harper
Three Reflections on Creativity and Writing; J.Cook
Creativity Looks at Language; R.Finnegan
Epilogue Creativity: Postscripts and Prospects; R.Carter.
ABOUT THE AUTHOR

---