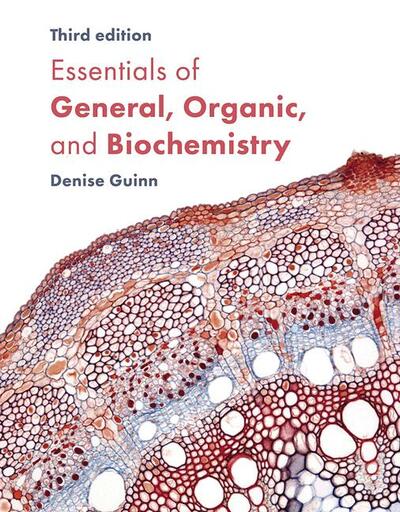 Essentials of General, Organic, and Biochemistry (3rd Edition)
Author(s):
Downloads:
Further Actions:
---
Categories:
AVAILABLE FORMATS
Hardcover - 9781319248109
06 February 2019
€91.29
Free Shipping
In stock
---
Ebook - 9781319248116
13 February 2019
---
Access Card - 9781319252380
26 April 2019
€53.99
Free Shipping
In stock
---
Book + Access Card - 9781949374209
27 April 2019
---
Guinn's Essentials of General, Organic and Biochemistry uses health and medicine as the framework for learning the fundamentals of chemistry in this student-centered one-semester text.
The newly revised 3rd edition focuses on...
Show More
Guinn's Essentials of General, Organic and Biochemistry uses health and medicine as the framework for learning the fundamentals of chemistry in this student-centered one-semester text.
The newly revised 3rd edition focuses on core concepts and necessary math skills, and features a revamped organization to align with traditional course organization and shorter, more condensed chapters. Easily digestible content and medical applications help reduce student anxiety and make chemistry meaningful for students preparing for future careers in nursing and other allied health professions.
Paired with SaplingPlus and an embedded eBook, students will be able to focus their study with adaptive quizzing and understand the relevance of chemistry through videos, animations and case studies.


Show Less
Core Concepts: Margin boxes emphasize important concepts within the course, and provide a quick study tool for students in reviewing chapter content
Math Tips: Margin boxes provide suggested techniques and reminders of math skills at points in the text when mathematics is required
Guidelines: Step-by-step instructions, such as naming organic compounds, can be used as both explanations and a quick reference when doing homework or other exercises. They are clearly set off in the text to emphasize their importance and to help students find them easily
Chemistry in Medicine: A Chemistry in Medicine feature concludes each chapter by providing an in-depth look at how the chemical principles described in the chapter and be directly applied to a problem or issue in health care
Concepts in Context: Because context and connection are crucial to motivation and learning chemistry, each chapter opens in the form of a short, practical, and real-life example of a health-related topic connected to the concepts in the chapter. These stories immediately immerse the student in a high-interest topic related to health and medicine
Â
Revised organization covering general, organic, and biochemistry topics chronologically rather than dispersed throughout the text
Shorter, more digestible chapters
New text features: Core Concepts and Math Tips
SaplingPlus with VitalSource eBook
LearningCurve adaptive quizzing tied to every chapter
Case studies related to real-world applications, especially medical applications, in two formats: in-class worksheets and digitally-based problems in Sapling
1. Measuring Matter and Energy 1.1 Matter and Energy 1.2 Metric and English Units 1.3 Significant Figures in Measurements 1.4 Dimensional Analysis and Unit Conversion
2. Atomic Structure and Nuclear Radiation 2.1 Elements and the Structure of the Atom 2.2 The Periodic Table of Elements 2.3 Electrons 2.4 Ions 2.5 Radioisotopes and Nuclear Radiation
3. Compounds and Molecules 3.1 Ionic Compounds 3.2 Covalent Compounds 3.3 Shapes of Covalent Molecules 3.4 Polar Bonds and Polar Molecules 3.5 Intermolecular Forces of Attraction
4. Chemical Reactions and Chemical Quantities 4.1 The Mole: Counting and Weighing Matter 4.2 Writing and Balancing a Chemical Equation 4.3 Energy and Chemical Reactions 4.4 Reaction Kinetics 4.5 Chemical Equilibrium
5. Changes of State and the Gas Laws 5.1 Changes of State 5.2 The Gas Laws 5.3 Gas Mixtures and Partial Pressure
6. Hydrocarbons 6.1 Introduction to Hydrocarbons 6.2 Structure of Alkanes 6.3 Writing Alkane Structures 6.4 Unsaturated Hydrocarbons: Alkenes and Alkynes 6.5 Naming Hydrocarbons 6.6 Aromatic Hydrocarbons
7. Organic Chemistry and Biomolecules 7.1 Alcohols and Ethers 7.2 Amines 7.3 Carbonyl Containing Functional Groups 7.4 Stereoisomers 7.5 Phosphate Ester Functional Groups
8. Mixtures, Solution Concentrations, and Diffusion 8.1 Mixtures and Solutions.8.2 Solution Concentrations.8.3 Colloidal Dispersions and Suspensions.8.4 Diffusion of Solutes and Solvent through Membranes
9. Acids and Bases 9.1 Acids and Bases 9.2 pH 9.3 Buffers
10. The Reactions of Organic Functional Groups in Biochemistry.10.1 Oxidation-Reduction Reactions 10.2 Group Transfer Reactions: Esterification and Amidation Reactions 10.3 Hydrolysis Reactions 10.4 Addition-Elimination Reactions involving Water: Hydration and Dehydration
11. Carbohydrates: Structure and Function 11.1 An Overview of Carbohydrates and their Function.11.2 The Structure of the Common Monosaccharides.11.3 The Structure of Complex Carbohydrates.11.4 The Role of Oligosaccharides as Cell Markers
12. Lipids: Structure and Function.12.1 Fatty Acids: A Component of Many Lipids.12.2 Triglycerides: Energy Storage Lipids 12.3 Phospholipid and Glycolipid Membrane Lipids 12.4 Cholesterol, Steroids and Lipoproteins
13. Proteins: Structure and Function 13.1 Amino Acids 13.2 Peptides 13.3 Protein Architecture 13.4 Enzymes
14. Nucleotides and Nucleic Acids 14.1 The Chemical Structure of Nucleotide and Polynucleotides 14.2 DNA Structure and Replication 14.3 The Role of DNA and RNA in Protein Synthesis
15. Metabolism and Bioenergetics 15.1 Overview of Energy and Metabolism 15.2 Carbohydrate Catabolism 15.3 Fatty Acid Catabolism 15.4 The Citric Acid Cycle 15.5 Oxidative Phosphorylation.
Lab Manual - Experiments to emphasize biological implications of chemical concepts, often within the context of the health science field

Study Guide - This combined manual helps students them common mistakes and understand key concepts. The solutions manual section includes detailed solutions to all odd-numbered exercises in the text.

ABOUT THE AUTHOR

---