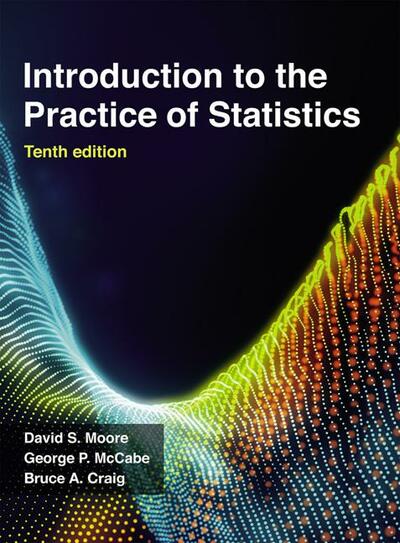 ---
Categories:
AVAILABLE FORMATS
Paperback - 9781319383664
16 March 2021
€79.03
Free Shipping
In stock
---
Ebook - 9781319383671
26 April 2021
---
Now available with Macmillan's new online learning tool Achieve, Introduction to the Practice of Statistics, 10th edition, prepares students for the application of statistics in the real world by using current examples...
Show More
Now available with Macmillan's new online learning tool Achieve, Introduction to the Practice of Statistics, 10th edition, prepares students for the application of statistics in the real world by using current examples and encouraging exploration into data analysis and interpretation. The text enforces statistical thinking by providing learning objectives and linked exercises to help students master core statistics concepts and think beyond the calculations.
Achieve for Introduction to the Practice of Statistics integrates outcome-based learning objectives and a wealth of examples with assessment in an easy-to-use interface. Students are provided with rich digital resources that solidify conceptual understanding, as well as homework problems with hints, answer-specific feedback, and a fully worked solution.
Show Less
Achieve Online Homework
Over 3,000 homework questions of varying difficulty, Bloom's level, and question type. Every homework question includes a hint, answer-specific feedback, and a fully worked solution. Question types in Achieve include:
- Multiple choice
- Ranking
- Sorting
- Numeric entry
- Multi-part questions
- Questions with algorithmically regenerating values
LearningCurve adaptive quizzing puts the concept of "testing to learn" into action, motivating students to engage with the text's content to identify areas of proficiency. Easy-to-use reporting tools help teachers pinpoint areas to focus on in class.
A mobile, interactive e-book, powered by VitalSource, allows students to highlight and take notes, print select pages, and have the text read aloud to them.
Over 140 StatTutors--multimedia tutorials that explore important concepts and procedures in a presentation that combines video, audio, and interactive features--are assignable, gradeable, and organized by chapter.
Applet Activities, called out from the text, are visual interactives that allow students to manipulate data and variables in calculations and see the results graphically. Applets also contain assessment questions to test students' comprehension.
Videos provide additional exposure to key concepts and examples. Videos are narrated and close-captioned. Video types include
- Whiteboard-style problem-solving videos
- StatTutor video lessons
- Animated lectures and documentary-style videos that illustrate real world scenarios involving statistics
EESEE (Electronic Encyclopedia of Statistical Examples and Exercises) Case Studies, developed by the Ohio State University Statistics Department, teach students to apply their statistical skills by exploring actual case studies using real data.
Video Technology Manuals are brief instructional videos that provide basic introductions for working with CrunchIt!, Excel, SPSS, TI-83/84 calculators, JMP, Minitab, R, and RCmdr.
Statistical software options
CrunchIt!, Macmillan's proprietary online statistical software powered by R, handles every computation and graphing function an introductory statistics student needs. CrunchIt! is preloaded with data sets, and it allows editing and importing additional data.
Students also receive access to JMP Student Edition (developed by SAS). With the student edition of JMP, students handle large data, visualizations, and analysis for which the professional version is renowned. Additionally, text-specific data sets are included for download.
For other statistical software, Achieve includes data sets, including those for:
- Excel
- Minitab
- R & RCmdr
- SPSS
- TI Calculators
- Mac-text &\ PC-text
- CSV file export
Textbook features:
Current and real-world data and examples in more than 1,700 exercises and 400 examples cover applications in 17 categories and represent diverse disciplines such as business, education, health, and social sciences.
Technology integration and outputs from the most common statistical software (notably Excel, Minitab, JMP, SPSS, and R) and the use of interactive applets show how statistical analyses are performed, while reinforcing concepts and methods rather than calculations.
Caution callouts, marked with an icon, carefully and clearly guide students away from common pitfalls and misconceptions.
Look Back margin notes remind students of key terms and provide page references to where the terms are first introduced.
Beyond the Basics sections give quick overviews of optional topics such as density estimation, scatterplot smoothers, data mining, nonlinear regression, and meta-analysis.
Challenge exercises stretch students with open-ended investigation, deeper thought about the basic concepts, or mathematical techniques.
Achieve Online Homework

Macmillan's new online learning tool Achieve features intuitive design, assessment, insights, and reporting built with the direct input of students, educators, and our learning science team. Achieve for Introduction to the Practice of Statistics features
Learning Objectives tagged to all assessments within Achieve.
In-Class Activity Guides to facilitate active learning during class time.
over 3,000 homework questions, each with hints, answer-specific feedback, and a fully worked solution.
LearningCurve adaptive quizzing.
an interactive e-book, powered by VitalSource.
multimedia student resources, such as interactive applets and videos.
data sets for common statistical software, video technology manuals, and access to Macmillan's proprietary statistical software, CrunchIt!
Content Updates to the Tenth Edition
Approximately 30% of the examples and exercises have been revised or replaced for currency and up-to-date data, covering applications from cryptocurrencies to Instagram usage.
To gain students' attention, each chapter begins with interesting real-world questions that will be studied in the chapter, one of which is tied to the chapter-opening photo.
Learning objectives have been revised and fully integrated into the beginning and end of each section and provide relevant examples and exercises for review and practice.
Check-in questions, formerly known as Use Your Knowledge Questions, encourage students to actively assess their understanding as they work through the material. Check-in questions now have their own separate numbering sequence.
Putting It Together exercises at the end of each chapter emphasize the key skill of "statistical thinking" - how to plan how to solve a problem by assessing the information, making assumptions, selecting the appropriate method to use, analyzing or comparing results, and drawing conclusions, etc.
Through enhanced visual pedagogy, key figures now include explanatory annotations to help students interpret and master new graphical representations. All figures have been revised for consistency and accessibility, and the design has been streamlined.
Additional software outputs for certain examples as well as Video Technology Manuals for key topics are available online in Achieve (indicated by icons in the book).
Part I Looking at Data
CHAPTER 1 Looking at Data—Distributions 1
CHAPTER 2 Looking at Data—Relationships
CHAPTER 3 Producing Data
Part II Probability and Inference
CHAPTER 4 Probability: The Study of Randomness
CHAPTER 5 Sampling Distributions
CHAPTER 6 Introduction to Inference
CHAPTER 7 Inference for Means
CHAPTER 8 Inference for Proportions
Part III Topics in Inference
CHAPTER 9 Inference for Categorical Data
CHAPTER 10 Inference for Regression
CHAPTER 11 Multiple Regression
CHAPTER 12 One-Way Analysis of Variance
CHAPTER 13 Two-Way Analysis of Variance
Companion Chapters
CHAPTER 14 Logistic Regression
CHAPTER 15 Nonparametric Tests
CHAPTER 16 Bootstrap Methods and Permutation Tests
CHAPTER 17 Statistics for Quality: Control and Capability
ABOUT THE AUTHOR

---