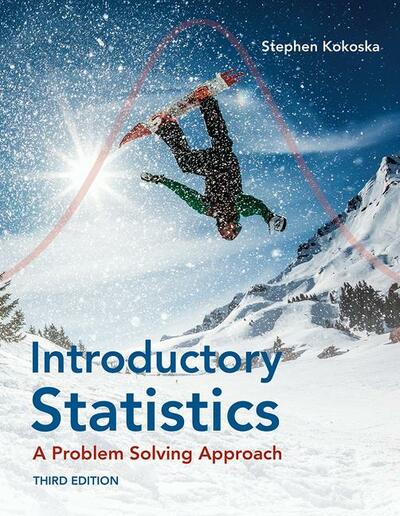 Introductory Statistics: A Problem-Solving Approach (3rd Edition)
Author(s):
Downloads:
Further Actions:
---
Categories:
AVAILABLE FORMATS
Paperback - 9781319324544
8 December 2019
AU$175.95
Free Shipping
In stock
---
Ebook - 9781319324568
15 February 2020
---
Instant Digital Access Code - 9781319325855
15 February 2020
---
Book + Access Card - 9781319341404
8 December 2019
AU$187.95
Free Shipping
In stock, arrives in 4-6 weeks
---
This very hands-on book helps students develop the fundamental lifelong skill of solving problems and interpreting solutions in real-world terms. Now in its third Edition, this introductory statistical book presents...
Show More
This very hands-on book helps students develop the fundamental lifelong skill of solving problems and interpreting solutions in real-world terms. Now in its third Edition, this introductory statistical book presents long-term, universal skills for students taking a one- or two-semester introductory-level statistics course. Examples include guided, explanatory solutions that emphasize problem-solving techniques.The generous collection and variety of exercises provide ample opportunity for practice and review in a variety of contexts.
This text is designed to help students fully understand the steps in basic statistical arguments, emphasizing the importance of assumptions in order to follow valid arguments or identify inaccurate conclusions.
Show Less
Focus on Statistical Inference. The main theme of this text is statistical inference and decision making through the interpretation of numerical results. The process of statistical inference is introduced in a variety of applications and statistical settings all using a similar, carefully delineated, four-step approach: Claim, Experiment, Likelihood, and Conclusion.
Step-by-Step Solutions. The solutions to selected examples are presented in logical, systematic steps. This approach helps guide the reader through the necessary calculations in order to find a solution and interpret results.
Solution Explanations. Each part in a solution is explained, or justified, so that the reader can easily follow each step in a solution.
A Closer Look. The details provided in these sections offer straightforward explanations of various definitions and concepts. The itemized specifics, including hints, tips, and reminders, make it easier for the reader to interpret, comprehend, and learn important statistical ideas.
How To Boxes. This feature provides clear steps for constructing basic graphs or performing essential calculations. The title in a How To box is color coded and easy to locate with each chapter.
Definition/Formula Boxes. Definitions and formulas are clearly marked and outlined with clean, crisp color-coded lines.
Data Sets. All data sets presented in the examples and exercises are available on the text's website (www.macmillanlearning.com/introstats3e) in various formats. This makes it easy for students and instructors to use the most familiar and comfortable technology.
Grouped Exercises. There is a wide variety of interesting, engaging exercises on relevant topics, based on current data, at the end of each section. These problems provide plenty of opportunity for practice, review, and application of concepts. Exercises are grouped according to:
Concept Check: True/False, Fill in the Blank, and Short Answer exercises designed to reinforce the basic concepts presented in the section.
Practice: Basic, introductory problems to familiarize students with the relevant applications and solution methods.
Applications: Realistic, appealing exercises to build confidence and promote routine understanding.
Extended Applications: Applied problems that require extra creativity and thought.
Challenge: Additional exercises and technology projects that allow students to
discover more advanced concepts and connections.
At the end of each chapter, Chapter Exercises help to test the student's overall understanding of the chapter's concepts and to practice for assessments. Answers to odd-numbered section and chapter exercises are given at the back of the book.
For the first time, this textbook comes with SaplingPlus, the best online resource to teach students the problem-solving skills they need to succeed in statistics. SaplingPlus combines Sapling's acclaimed automatically-graded online homework with an extensive suite of engaging multimedia learning resources

Chapter 0 Why Study Statistics
Chapter 1 An Introduction to Statistics and Statistical Inference
Chapter 2 Tables and Graphs for Summarizing Data
Chapter 3 Numerical Summary Measures
Chapter 4 Probability
Chapter 5 Random Variables and Discrete Probability Distributions
Chapter 6 Continuous Probability Distributions
Chapter 7 Sampling Distributions
Chapter 8 Confidence Intervals Based on a Single Sample
Chapter 9 Hypothesis Tests Based on a Single Sample
Chapter 10 Confidence Intervals and Hypothesis Tests Based on Two Samples or Treatments
Chapter 11 The Analysis of Variance
Chapter 12 Correlation and Linear Regression
Chapter 13 Categorical Data and Frequency Tables
Chapter 14 Nonparametric Statistics
Optional Sections
(available online at macmillanlearning.com/introstats3e):
Section 6.5 The Normal Approximation to the Binomial Distribution
Section 12.6 The Polynomial and Qualitative Predictor Models
Section 12.7 Model Selection Procedures
Newpractice and assignment problems to every chapter covering all major concepts and skills in SaplingPlus.
ABOUT THE AUTHOR

---