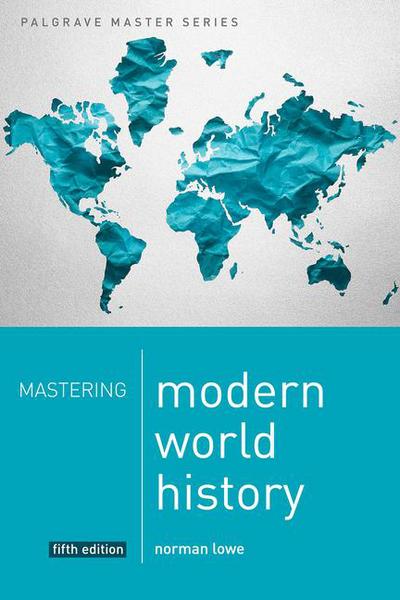 Mastering Modern World History (5th Edition)
Author(s):
Publisher:
Red Globe Press
Pages: 720
Series:
Downloads:Further Actions:
Permissions
---
Categories:
AVAILABLE FORMATS
Paperback - 9781137276940
17 May 2013
Unavailable to ship due to COVID-19.
---
Ebook - 9781137277244
17 May 2013
---
The fifth edition of this bestselling book is for school and college students taking courses in Modern World History and for undergraduates in History and International Relations. It is a complete, self-contained, lively and...
Show More
The fifth edition of this bestselling book is for school and college students taking courses in Modern World History and for undergraduates in History and International Relations. It is a complete, self-contained, lively and highly readable course, suitable for individual study or classroom use. The general reader who wishes to find out how the world got into its present state will also find the book useful.Key features of the fifth edition:• A new chapter on Latin America and its changing relationship with the USA• New sections on the Arab Spring, the 2008 financial crash and its aftermath, and the European Union in crisis• New material on the changing face of communism in China; USA: Bush to Obama; Russia under Putin and Medvedev; the continuing conflict between Palestinians and Israelis and the 'war against terrorism'Content includes:• A survey of international relations and war from 1900 to 2012• Europe and its history - the rise and fall of fascism and communism• International affairs of the major superpowers - USA, Russia/USSR and China• International conflict -The Holocaust, 9/11 and the fall of Saddam Hussein• Decolonization and subsequent events in Africa, and the rise of political Islam• Global problems - climate change, economic crises, the population 'explosion'• Mention of disagreements and controversies among historians, as well as new interpretations and discoveriesNorman Lowe has had many years' experience of teaching History at all levels, and for 25 years was Head of History at Nelson and Colne College in Lancashire. He is the author of Mastering Modern British History and Mastering Twentieth Century Russian History. Fully updated companion website with examples of document questions for each chapter www.palgrave.com/masterseries/Lowe
Show Less
An internationally bestselling history text, with updates including new sections on the Arab Spring and the Afghanistan situation, and a new chapter on Latin America
Its clear structure and organization has made it an essential resource for mastering the complexities of twentieth- and twenty-first-century global developments
Supported by maps, diagrams and sample questions to help reinforce learning and understanding
Ideal for a wide range of courses both nationally and internationally
List of Figures
List of Maps
List of Tables
List of Illustrations
Acknowledgements
Preface to the Fifth Edition
PART I: WAR AND INTERNATIONAL RELATIONS
1. The World in 1914: Outbreak of the First World War 
2. The First World War and Its Aftermath 
3. International Relations, 1919-1933
4. International Relations, 1933-1939
5. The Second World War, 1939-1945 
6. The Cold War: Problems of International Relations After the Second World War 
7. The Spread of Communism Outside Europe And Its Effects On International Relations 
8. The United Nations Organization 
9. The Two Europes, East and West Since 1945 
10. Conflict in the Middle East 
11. The New World Order and the War Against Global Terrorism 
PART II: THE RISE OF FASCISM AND GOVERNMENTS OF THE RIGHT
12. Italy 1918-45: The First Appearance of Fascism 
13. Germany 1918-45: The Weimar Republic and Hitler 
14. Japan and Spain 
PART III: COMMUNISM RISE AND DECLINE
15. Russia and the Revolutions, 1900-24 
16. The USSR and Stalin, 1924-53 
17. Continuing Communism, Collapse and Aftermath, 1953-2005 
18. China 1900-49 
19. China Since 1949: The Communists In Control 
20. Communism in Korea and South East Asia 
PART IV: THE UNITED STATES OF AMERICA
21. The USA Before The Second World War 
22. The USA Since 1945 
PART V: DE-COLONIZATION AND AFTER
23. The End of the European Empires .-
ABOUT THE AUTHOR

---