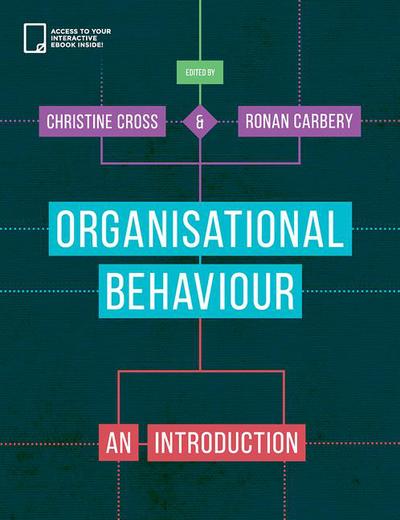 Organisational Behaviour
An Introduction
Author(s):
Christine Cross, Ronan Carbery
Publisher:
Red Globe Press
Pages: 408
Downloads:Further Actions:
---
Categories:
AVAILABLE FORMATS
Paperback - 9781137429445
01 April 2016
$67.99
Free Shipping
In stock
---
Ebook - 9781137429452
13 March 2018
---
This refreshing textbook shows how research into human behaviour can be applied in the workplace. It is focussed on helping students to develop the key skills they will need as future managers and employees. It...
Show More
This refreshing textbook shows how research into human behaviour can be applied in the workplace. It is focussed on helping students to develop the key skills they will need as future managers and employees. It assumes no prior work experience, and instead asks students to draw on their everyday experiences. They are invited to complete a range of innovative activities designed to deepen their understanding of key topics, such as personality, perception, and motivation.
The book is an ideal length for one-semester taught courses. It is aimed primarily at first and second year undergraduate students on Business and Management degrees, who are taking OB modules for the first time, though could also be used on postgraduate and MBA courses.
Show Less
'Spotlight on Skills' exercises, featuring video interviews with a range of business professionals discussing how organisational theories work in real life. Interviewees come from organisations such as Eurostar, Dell and Which?, as well as a former All-Blacks rugby star

`Building Your Skills' feature encourages students to develop practical skills, such as writing reports, giving presentations, and making difficult decisions

`In Reality' vignettes demonstrate that OB is not merely `common sense' by showing how research findings often contradict our assumptions

`OB in the News' showcases the coverage of OB topics in the media

`Active Case Studies' at the end of each chapter show how concepts in OB have played out in workplaces around the world, including the UK, Ireland, US, Middle East and Europe

`Making Links' icons and extended case studies at the end of each part demonstrate how OB topics fit together

Free to access online resources, including a testbank, lecturer manual, and teaching slides

1. Introducing Organizational Behaviour; Michelle Hammond
2. Personality; Jill Pearson
3. Perception; Jennifer Hennessey
4. Work Related Attitudes and Values; Ultan Sherman
5. Motivation and Stress in the Workplace; Collette Darcy
6. Emotions and the Workplace; Deirdre O'Shea
7. Groups and Teams in the Workplace; Christine Cross and Caroline Murphy
8. Leadership; Ronan Carbery
9. Power, Politics and Conflict at Work; Christine Cross and Lorraine Ryan
10. Communication in the Workplace; Vivienne Byers
11. Organizational Structure; Paul McGrath
12. Understanding Organizational Culture; Jean McCarthy and Caroline Murphy
13. Managing Organizational Change; Grainne Kelly.
Answers to questions found in the book

Audio summaries of each chapter
Employability resources: links to information on finding work
Multiple-choice quizzes to test your understanding of each chapter
Flashcards of key concepts
Links to psychological character tests
Video interviews with managers, in which they discuss how management theories work in real life, to accompany the in-text 'Spotlight on Skills' feature
To access these resources, visit the companion website at
https://www.macmillanihe.com/companion/Cross-Organisational-Behaviour/
or click 'View companion site' above.
An excellent textbook which interprets ideas and concepts in a way that students will easily comprehend. It develops critical thinking both through fascinating scenarios which students are invited to solve and through interactive questions. The case studies at the end of each chapter provide a linchpin by bringing in real-life perspectives that students are able to relate to. – Never Muskwe, De Montfort University, Leicester, UK
A concise, clear and application-orientated treatment of the clear elements of OB. For students, it will be an invaluable resource. For lecturers, it provides a solid foundation that is flexible enough to be used rewardingly in different local contexts. – François Bester, Alfaisal University, Saudi Arabia
Organisational Behaviour provides fresh perspectives on managing behaviour in the twenty-first century. This text will be invaluable for multiple audiences: students undertaking management studies with little foundational knowledge; people in the workforce who want to understand the theoretical and practical aspects of behaviour; and anyone seeking a global appreciation of organisational behaviour. The core themes are well written and are structured to provoke debate through a range of academic material, including case studies, skill-building exercises, and electronic resources. – Margaret E. Heffernan, O.A.M, RMIT University, Australia.
Add a review
ABOUT THE AUTHOR

---