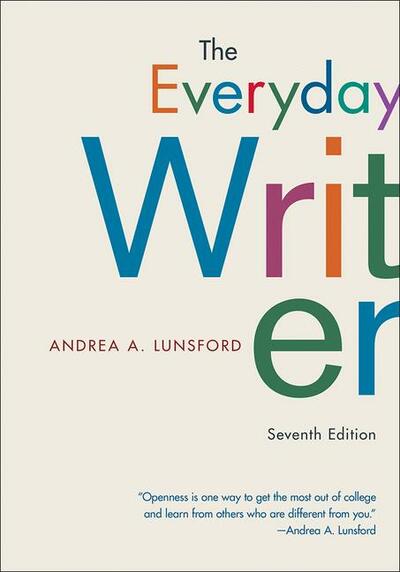 The Everyday Writer (7th Edition)
Author(s):
Downloads:Further Actions:
---
Categories:
AVAILABLE FORMATS
Spiral bound - 9781319102678
18 December 2019
€68.19
Free Shipping
In stock
---
Ebook - 9781319345815
20 December 2019
---
The Everyday Writer, invites students to think rhetorically, communicate ethically, listen respectfully, experiment with language, and adopt openness as a habit of mind necessary for democracy.
The seventh edition...
Show More
The Everyday Writer, invites students to think rhetorically, communicate ethically, listen respectfully, experiment with language, and adopt openness as a habit of mind necessary for democracy. The seventh edition introduces new chapters on college expectations and on language and identity as well as substantial new advice for reading and interrogating sources, seeking common ground with opponents, using varieties of English, and being open to new approaches in common academic genres. New student models of rhetorical analysis, researched argument, speech, and translingual narrative invigorate the book. As always, Lunsford's Top Twenty serves as a guide for building students' confidence as editors of their own writing.
Show Less
Rhetorical grounding; the book is built on the idea that empowering writers and strengthening their skills starts with creating awareness of the choices they have and encouraging reflection on the choices they make
Highly visual; friendly and easy to use
Comprehensive coverage of critical thinking, critical reading, and argument
Awareness that academic writing is multimodal; throughout the book, rhetorical considerations assume that students are producing a variety of print and digital compositions
An emphasis on openness as a key habit of mind
New strategies for defensive reading, critical thinking, and fact checking
A stronger emphasis on narrative as an approach to academic writing
New and powerful student writing in common genres
Writing Rhetorically
1 Expectations for College Writing: Open your book, open your mind
2 Rhetorical Situations
3 Exploring, Planning, and Drafting
4 Developing Paragraphs
5 Reviewing, Revising, and Editing
6 Reflecting
Critical Thinking and Argument
7 Critical Reading
8 Analyzing Arguments
9 Constructing arguments
Research
10 Doing research
11 Evaluating Sources.-12 Integrating Sources and Avoiding Plagiarism
Academic, Professional, and Public Writing
13 Writing Well in Any Discipline or Profession
14 Writing for the Humanities
15 Writing for the Social Sciences
16 Writing for the Natural and Applied Sciences
17 Writing in Professional Settings
18 Making Design Decisions
19 Creating Presentations
20 Communicating in Other Media
21 Writing to Make Something Happen in the World
Language and Style
22 Language and Identity
23 Language Varieties
24 Writing to the World
25 Language That Builds Common Ground
26 Style Matters
27 Coordination, Subordination, and Emphasis
28 Consistency and Completeness
29 Parallelism
30 Shifts
31 Conciseness
The Top Twenty
32 The Top Twenty: A Quick Guide to Editing Your Writing
Sentence Grammar
33 Parts of Speech
34 Parts of Sentences
35 Verbs and Verb Phrases
36 Nouns and Noun Phrases
37 Subject-Verb Agreement
38 Pronouns
39 Adjectives and Adverbs
40 Modifier Placement
41 Prepositions and Prepositional Phrases
42 Comma Splices and Fused Sentences
43 Sentence Fragments
Punctuation and Mechanics
44 Commas
45 Semicolons
46 End Punctuation
47 Apostrophes
48 Quotation Marks
49 Other Punctuation Marks
50 Capital Letters
51 Abbreviations and Numbers
52 Italics
53 Hyphens
MLA Documentation
54 The Basics of MLA Style
55 MLA Style for In-Text Citations
56 MLA Style for a List of Works Cited
57 A Student Research Essay, MLA Style
APA Documentation
58 The Basics of APA Style
59 APA Style for In-Text Citations
60 APA Style for a List of References
61 A Student Research Essay, APA Style
Chicago Documentation
62 The Basics of Chicago Style
63 Chicago Style for Notes and Bibliographic Entries
64 An Excerpt from a Student Research Essay, Chicago Style
Glossaries and Index
Glossary of Usage
Index with Glossary of Terms.
ABOUT THE AUTHOR

---