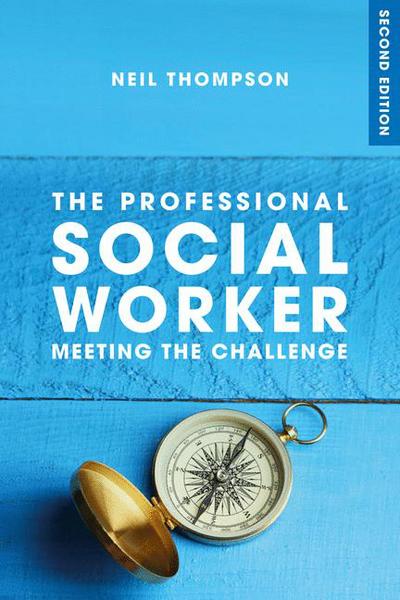 The Professional Social Worker (2nd Edition)
Author(s):
Publisher:
Red Globe Press
Pages: 296
Downloads:Further Actions:
---
Categories:
AVAILABLE FORMATS
Paperback - 9781137586704
08 July 2016
$45.99
Free Shipping
In stock
---
Ebook - 9781137603784
16 September 2017
---
In this ground-breaking text book, bestselling author Neil Thompson turns his attention to the question of 'What does it mean to be truly professional in the field of social work?'
Notions of professionalism in social work...
Show More
In this ground-breaking text book, bestselling author Neil Thompson turns his attention to the question of 'What does it mean to be truly professional in the field of social work?'
Notions of professionalism in social work have changed over time. Early traditional ideas showed themselves to be elitist and inconsistent with the fundamental principles of social work, and have been followed by a period of uncertainty as to whether or not social workers are professionals at all. Now, with a move towards a new form of professionalism beginning to take shape, this book presents a cogent argument for reaffirming this vital aspect of social work. Informed by extensive experience and expertise, Thompson examines the role of the modern-day social worker in four parts: as problem solver, thinker, manager and professional.
Whether a student new to the complexities of this demanding, rewarding field taking a Social Work Practice or Placement module, or a qualified practitioner seeking a source of guidance, this book will help meet the challenge of developing a professionalism that is consistent with the values of contemporary social work.
Show Less
Unique and timely focus on the social worker as a professional
Leading author Neil Thompson is a bestselling and renown social work author
Real-life 'Voice of experience' examples to illustrate key points
'Practice focus' sections to encourage readers to think contextually
A broad range of reflective questions and activities to aid application, and a wealth of guidance on further learning
Preface to the Second Edition
Introduction
PART I: THE SOCIAL WORKER AS PROBLEM SOLVER
Introduction to Part I
1. Needs, Unmet Needs and Problems
Introduction
What are Needs?
Unmet Needs
Problems
Conclusion
2. The Social Context of Personal Problems
Introduction
The Personal is Political
Poverty, Deprivation and Social Exclusion
Discrimination and Oppression
Crime
Illness, Disablement and Mental Health Problems
Homelessness and Poor Housing
Conclusion
3. Promoting and Preventing Change: Developing Versus Sustaining
Introduction
The Importance of Change in Social Work
Promoting Change
Preventing Change
Conclusion
4. Perspectives on Problems: Working in Partnership
Introduction
Multiple Perspectives
Making Partnership a Reality
Conclusion
Conclusion to Part I
PART II: THE SOCIAL WORKER AS THINKER
Introduction to Part II
5. Reflective Practice: Developing Critical Analysis Skills
Introduction
Why Reflective Practice?
Making Critically Reflective Practice a Reality
Conclusion
6. Social Work as Education
Introduction
Why Education?
Using Educational Skills and Processes
Conclusion
7. Thinking and Feeling: Emotional Intelligence
Introduction
Reason and Emotion
Working with Emotion
The Three Rs Framework
Conclusion
8. Spirituality and Meaning Making
Introduction
Making Sense of ExperienceSpirituality
Focusing on Meaning
Conclusion
Conclusion to Part II
PART III: THE SOCIAL WORKER AS MANAGER
Introduction to Part III
9. Managing Self
Introduction
The Importance of Self-management
Rising to the Challenge
The Three Rs
Conclusion
10. Managing Processes, Tasks and Outcomes
Introduction
Managing Processes
Managing Tasks
Managing Outcomes
Conclusion
11. Managing Risk and Resources
Introduction
Assessing and Managing Risk
Three Types of Risk
Managing Resources
Conclusion
12. Managing Expectations
Introduction
Why are Expectations Important?
Negotiating Expectations
Managing Resources
Conclusion
Conclusion to Part III
PART IV: THE SOCIAL WORKER AS PROFESSIONAL
Introduction to Part IV
13. Traditional Professionalism
Introduction
Problems with Professionalism
The Problem of Medicalization
Conclusion
14. The Legacy of Anti-professionalism
Introduction
The Radical Critique
The Problems of Anti-professionalism
Conclusion
15. Developing an Authentic Professionalism
Introduction
Reaffirming Professionalism
Supporting Professionalism
Towards Authentic Professionalism
The Three Rs Framework Revisited
Conclusion
16. Professionalism in Practice
Introduction
The Building Blocks of Professionalism
Key Themes and Issues
Making Authentic Professionalism a Reality
Conclusion
Conclusion to Part IV
Glossary
References
Index.
ABOUT THE AUTHOR

---